Why should I replace the pickups in my Strat anyways? This is a question I get a lot. There are a mind boggling amount of Stratocaster models on the market today and not all are created equal. The two main lines I'll focus on here are the MiM (Made In Mexico) models and the Squier Stratocaster lines, the majority of these models come equipped with ceramic pickups. What exactly is a ceramic pickup? aren't they made of metal and copper? Yes they are still wound with copper wire and use metal pole pieces, however the magnets used are blocks of ceramic. Ceramic magnets are made from ferrites (often iron oxides). Magnetically speaking, ceramic magnets produce a strong field, and are considerably higher output then their alnico counterparts. The result is a slightly hotter sounding pickup with more treble response. Alnico pickups on the other hand are made of an alloy of Aluminum, Nickel, and Cobalt, and have a weaker magnetic field when compared to ceramic; however, this gives the alnico pickups a much sweeter overall tone with a lot more open responsiveness and touch sensitivity.
So why wouldn't a higher output ceramic pickups be the better choice for me? Thats a good question, with ceramic magnets you have a much higher gauss level and stronger magnetic field which produces a very shrill or ice-picky treble response, so to balance this you need to wind the pickup hotter with more turns of copper. The end result is a pickup that has a lot more output then Alnico pickups, however, you also get a more harmonically saturated signal which to me sounds very brick walled and lacking in dynamics, some people call them dark or muddy to me its more compressed or sterile sounding.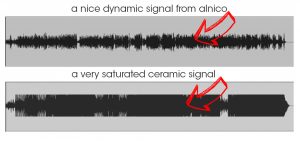 The consensus is that Ceramic falls short of the sweeter Alnico when it comes to clean tones. Although not impossible to produce a great clean tone with Ceramic, sometimes the harmonic saturation and natural compression of the magnet can cause ice-picking and a less organic sound.